NOW OPEN — for Summer 2016/17:

   

our Farewell Spit-Onetahua exhibition (from 21 October to Easter) … and of course the Whale skeleton (by early January we hope!)
~~~~~~~~~~~~~~~~~~~~~~~~~~~~
WW1 COMMEMORATIVE EXHIBITION–"Lest we Forget"

In New Zealand the centenary of WW1, and in particular the 1915 Gallipoli landing, are being marked between 2014 and 2018. Our 2014 exhibition continues with smaller displays focussing on the personal impact on local families. In early 2016 we highlight Major James David Barnett and Private Lawrence Barnett.
We invite local families with WW1 memorabilia and stories they are willing to share to contact the museum. There's a special display case where your family's items can go on display for a month or so. Visitors find such personal connections of particular interest.
Please phone Karen (525-6268) if you would like to offer items for short-term display
 ==========================================
Also currently on display:
Margaret Wilson Collection
This continues as a regularly changing exhibition created from our large founding collection, which the local community purchased from Margaret Wilson before the present museum opened in 1990. There are some surprising items on display (see below)—bring your visitors in!
Changing times: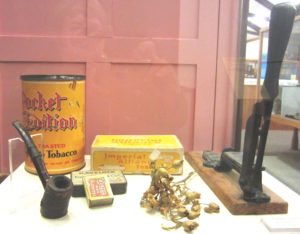 On 8 September 2016, Parliament passed legislation that will introduce plain packaging for tobacco products from late 2017. Displays of tobacco products from the past (we also have drawers of other examples!) will soon be the only reminder of what was frequently eye-catching graphic design.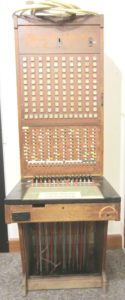 Takaka Manual Telephone Exchange:  The introduction of private telephone lines revolutionised communication, even if at first the connection with another subscriber relied on someone at the telephone exchange putting the right two plugs into the right two sockets  on the switchboard.
This manual exchange board (one of two) operated at the adjoining Old Post Office from 24 June 1910 until construction of the automatic exchange on the opposite side of the road in the 1970s.
Similar manual exchange switchboards also operated at Collingwood Post Office between 1926 and 1982 and can be seen at the Machinery and Early Settlers Museum at Rockville.
… plus our permanent Abel Tasman displays
 =============================
Winter 2016 exhibition –Powelliphanta ('Save Our Snails')–finished 31 July 2016
This was a fascinating exhibition about Powelliphanta (Aotearoa's very special carnivorous land snails).
A super large model (sorry, not for touching) and a video including a snail swallowing a worm (like spaghetti!) plus displays of several specimens and interesting panel info. The exhibition was prepared by and is on loan from Nelson Provincial Museum (thanks, NPM!) Did you know that powelliphanta are essentially shellfish that adapted to live on land? Amazing creatures and most are found in NW Nelson & Westland, with some of the 21 species under threat of extinction due to predators like possums, pigs and rats.