Whalery completed– Our new "front door"!
Our Code of Compliance certificate was granted on Friday 17 December–just in time for the 374th anniversary of "First Meeting Day) in 1642, when Abel Tasman sailed into Golden Bay/Mohua. As well as helping mark that event, Netherlands Ambassador Rob Zaagman and his wife Monique were the first members of the public to enter by the new door.  (The official opening of the Whalery will be held when the whale skeleton is installed.)
Here's how it looks — as if it's always been there!  We are very grateful to Pub Charity for donating funds to upgrade the glass to museum-standard UV-resistant.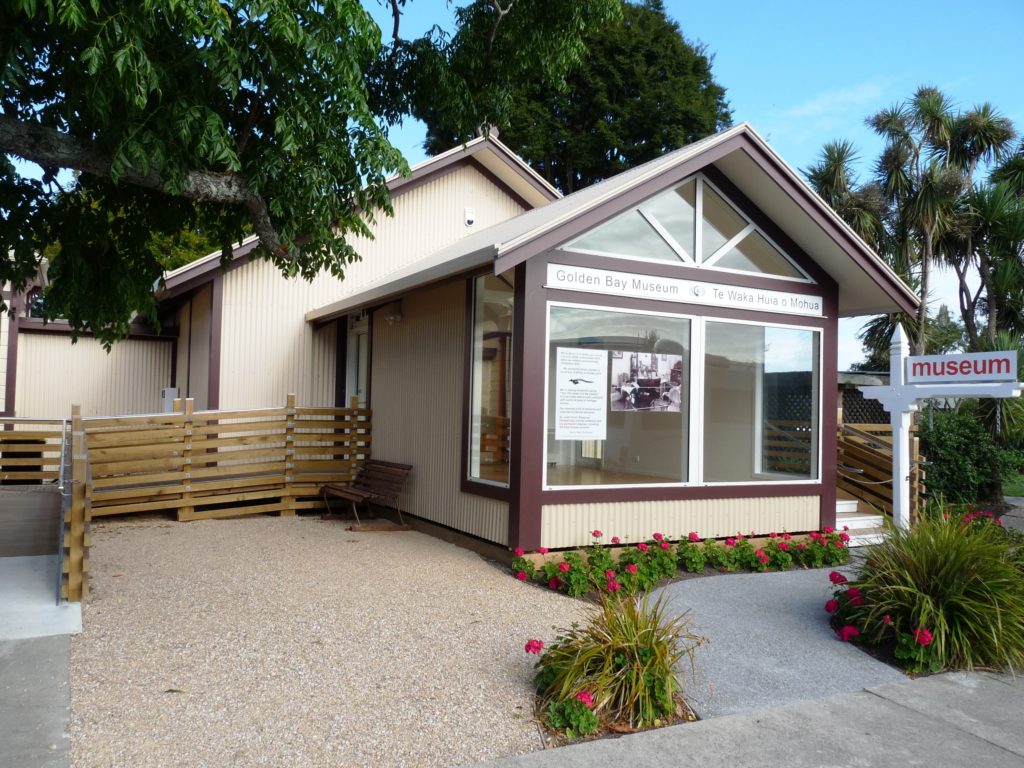 Update: (Tasman Leader) Whalery Construction hits the headlines …

Update:

Bones out of the bath!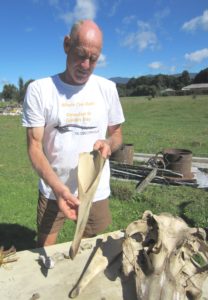 Whale-Man Alan McLean at the Easter Rockville Museum SteamUp — he's holding one of the jawbones, showing that it's fragile and hollow. The bones are now out of the soaking water and drying out before careful removal of hard waxes.  The finished skeleton seems much closer, but we still need to build the whalery!
T-SHIRTS (available from the Whale-Man, Alan McLean)
Alan has these top-quality fine cotton T-shirts available for $30. Contact Alan direct by phone/txt — 027-455-2228 — or by email:  ecoenrgy@gmail.com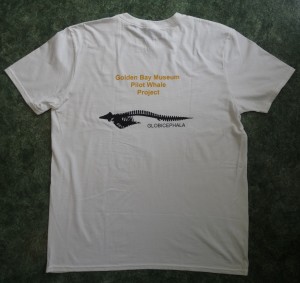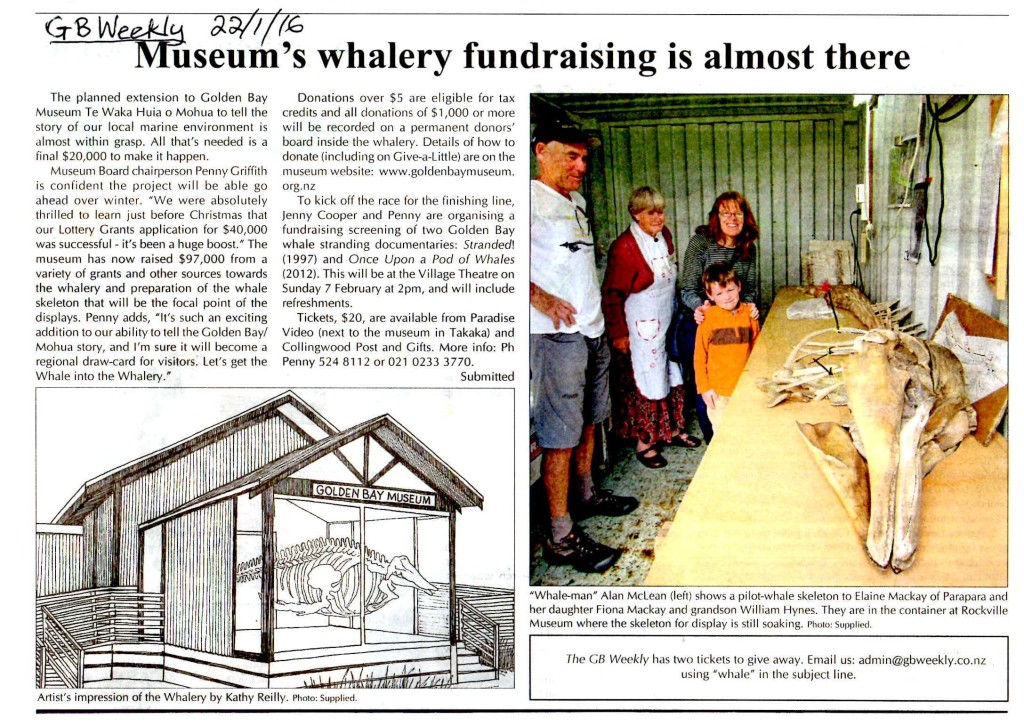 Kathy Reilly's drawing–from the final plans
We're extremely grateful to Kathy Reilly for preparing this new impression of the how the Whalery will look.
Our initial vision, discussed with original architect James Beard, was for a spectacular "glass box". The final result will be more utilitarian, partly for heat considerations, and partly to provide walls to display information.  It's going to create a remarkably different presence on Commercial Street, and will also provide improved access and climate control for the existing exhibition area.
SteamUp Brings Interested Visitors
The whale preparation container at Rockville Museum was open to the public at the museum's SteamUp Day on Sunday 3 January, and a steady stream of visitors came to find out more.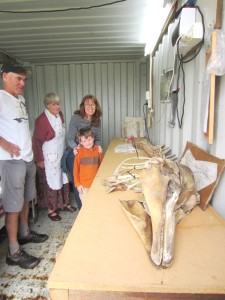 Here "whale-man" Alan McLean (left) shows his first pilot-whale skeleton to Elaine Mackay of Parapara and her daughter Fiona Mackay and grandson William Hynes, to give them an idea of how complicated the reassembly of the cleaned bones is. The second skeleton (a bit larger at 4.2 metres) is still at the soaking/cleaning stage but should be ready for display next summer.
  =======================
Wonderful donation by GB Quilters
Golden Bay Quilters President Rhonda Lash (3rd from left) presents a cheque for $3,000 to Museum Services Manager Karen Johnson (far right). The proceeds of the quilters' annual raffle were donated to the museum's whalery project—it's the largest single community donation so far.   Others in the photo (from left) are: Colleen Byrne, Hetty Nobel, Renee Bomer, Ann Lewis, Joan Fishley, Jenny Treloar, Gael Anderson, with museum Chair Penny Griffith also gratefully touching this wonderful donation. It was a beautiful quilt, too.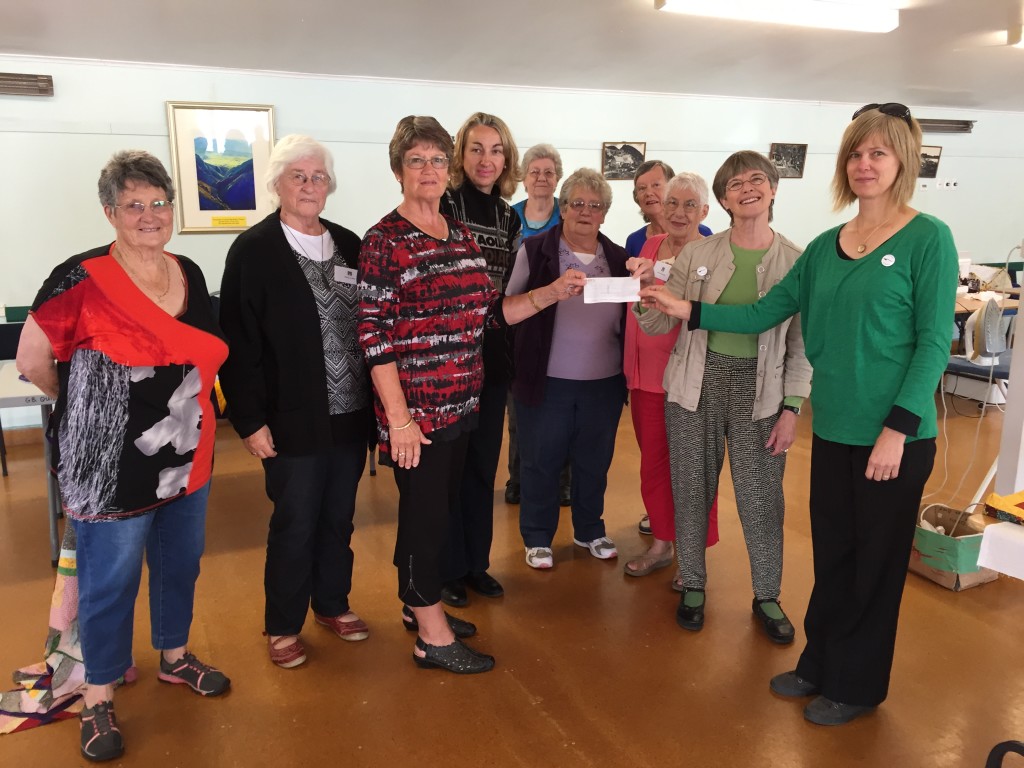 =====================
Hot-off-the-Press News–6 October 2015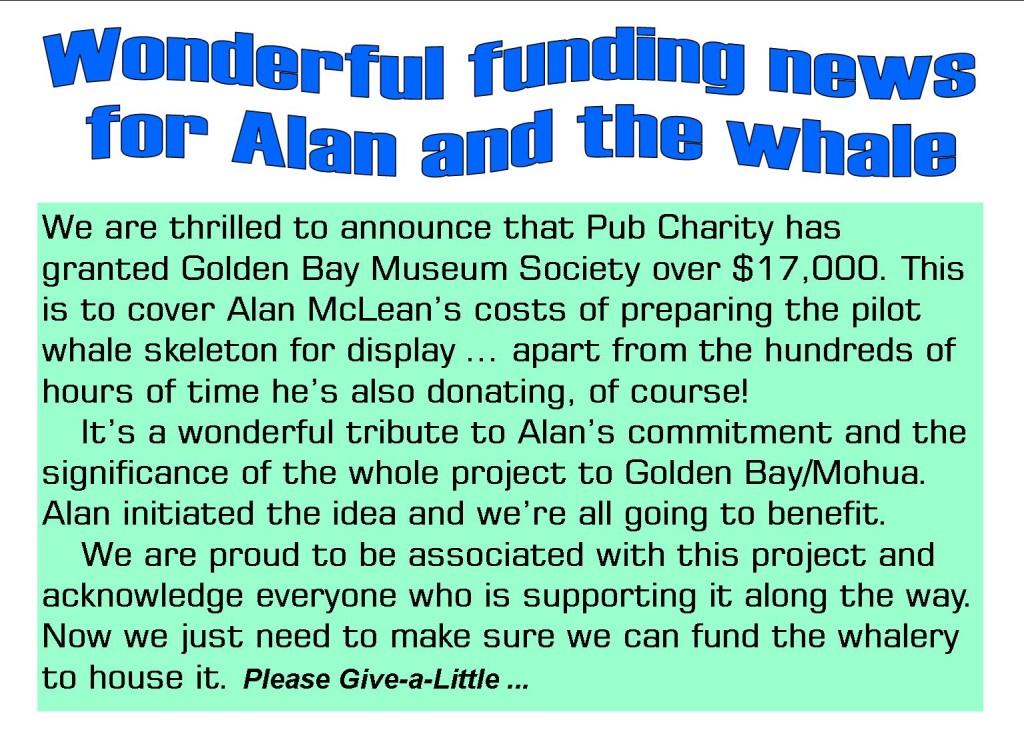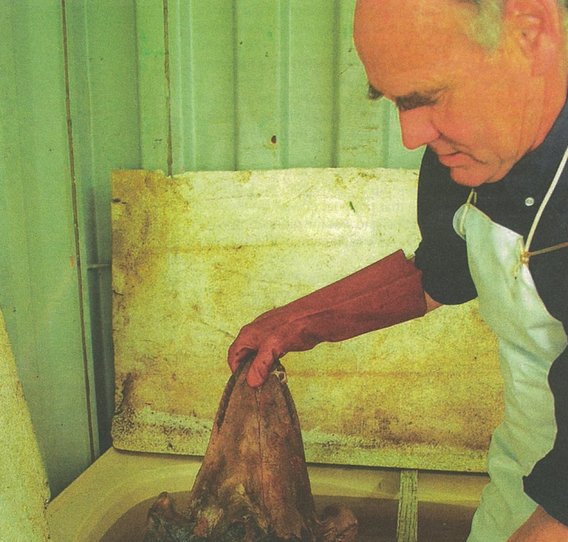 By September 2014 bone cleaning for the Whalery project was underway.  Click Here to read that GB Weekly article.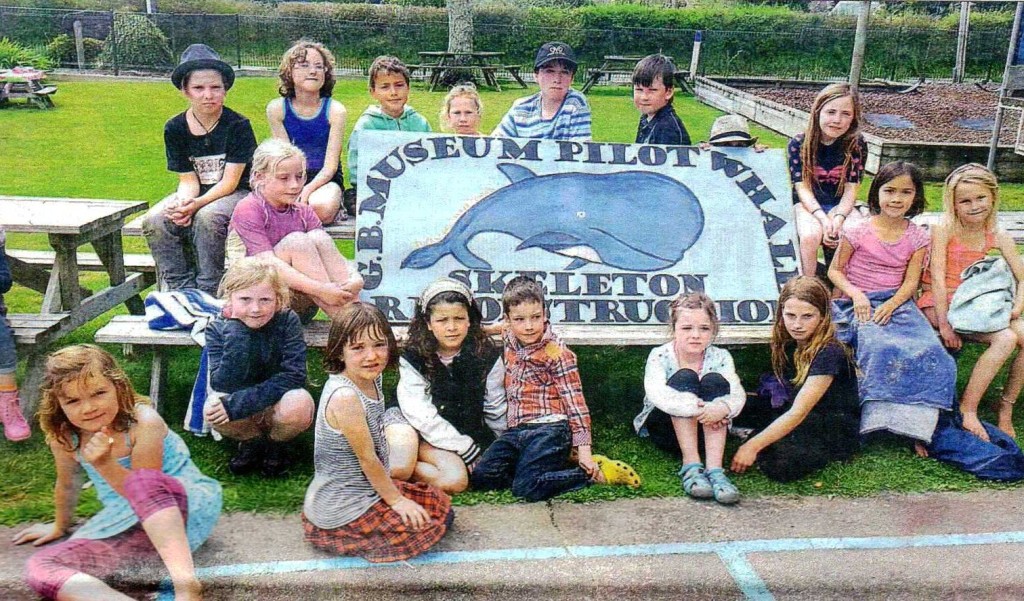 In October 2014 students at Central Takaka School completed a spectacular whale sign under the guidance of parent Sheryl Flanders. Click HERE to read that GB Weekly article.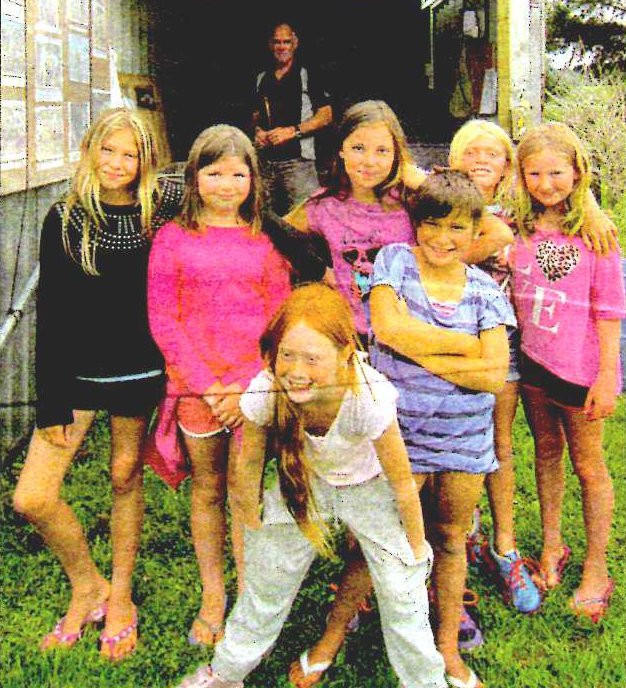 Then in December Takaka Primary School became involved. Click HERE to read that GB Weekly article.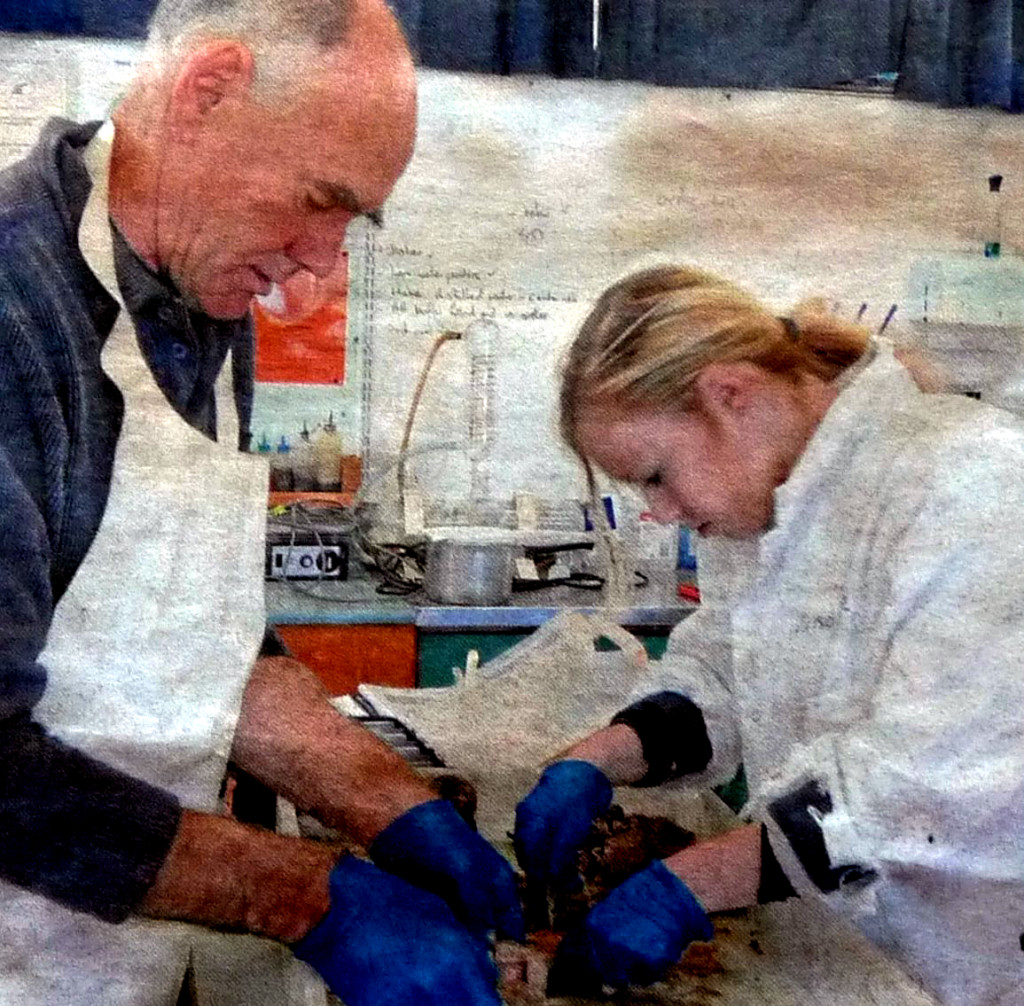 Since then the Collingwood Area School has also been involved, as Helen Murdoch reported HERE in Tasman Leader in July 2015.
August 2015: